Slip-Ring
We have experience over 25 years in the production of Slip-Ring, used to transfer electricity in rotating and mobile systems from a stationary structure to a rotating and moving system.
Contact Rings that we manufacture using special forms and glass fiber pressing technique show excellent performance at high speed.
The selection of Brush Holder and coal directly affects the economic life of the Slip Ring. We developed standard products you will have the best performance with interoperable Brush Holders and Coal quality options for different systems.
We created a range of full-fledged products for your needs for high speed operation or high electrical transmission. We have sufficient equipment and experience to manufacture Slip-Ring of Custom Sizes in line with the requirements of our customers in addition to standard product range.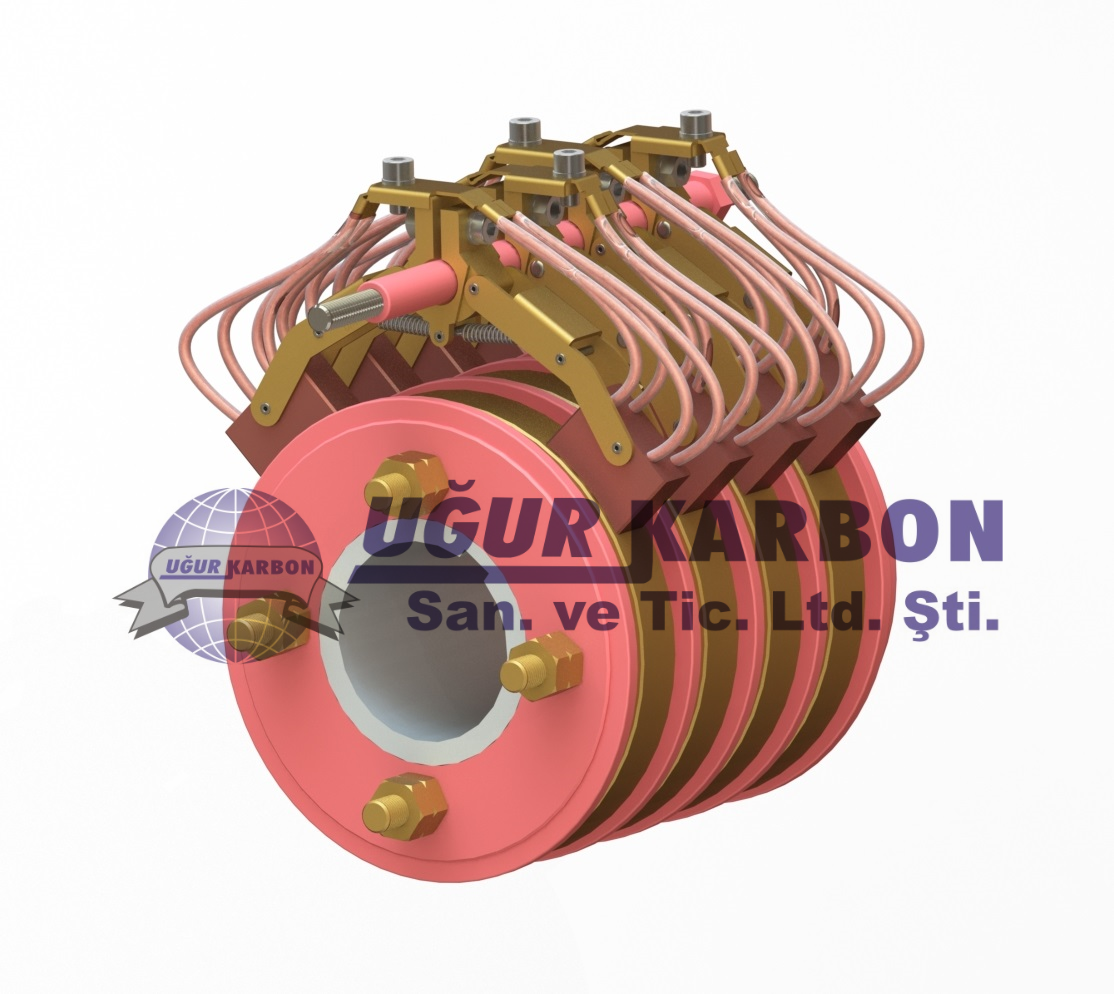 Click the Product Codes in the Table for Technical Drawings of Slip-Ring.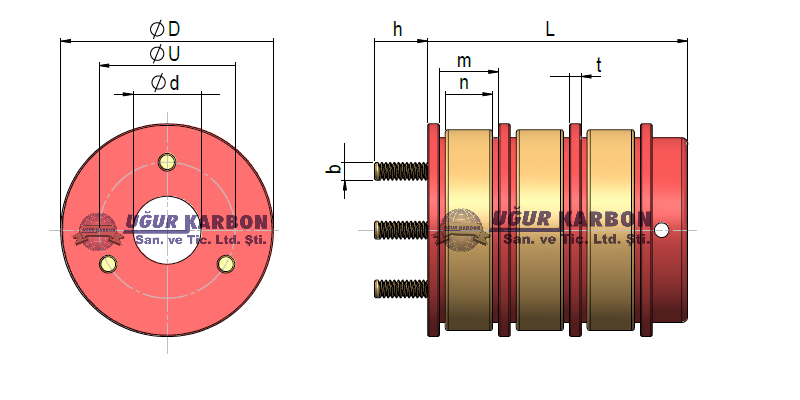 Click the product codes in the table for product technical drawings.

Item No.

Ampere

Number Of Contact

Inner Diameter

Red Diameter

Product Code

1.

40 A.

2

14 - 18 mm.

43 mm.

3

4

2.

40 A.

2

16 - 20 mm.

50 mm.

4

3.

40 A.

2

20 - 28 mm.

57 mm.

3

4

4.

60 A.

2

27 - 36 mm.

70 mm.

3

4

5

6

5.

75-100 A.

3

22 - 28 mm.

70 mm.

5

3

27 - 35 mm.

6.

60 A.

2

27 - 40 mm.

75 mm.

3

4

7.

75-120 A.

2

29- 45 mm.

85 mm.

3

4

5

6

8.

25-50 A.

5

28 - 40 mm.

90 mm.

6

7




9.

45 A.

10

45-55 mm.

100mm.

16

34-50 mm.

120-150 A.

3

30-50 mm.

5

10.

120-150 A.

2

37 - 60 mm.

105 mm.

3

4

5

6

11.

120 A.

8

45 - 60 mm.

105 mm.

10

12

12.

100 A.

15

60 - 70 mm.

120 mm.

20

13.

160-200 A.

2

44 - 70 mm.

120 mm.

3

4

5

6

14.

130 A.

3

40 - 85 mm.

135 mm.

4

5

6

8

15.

160-210 A.

2

45 - 80 mm.

135 mm.

3

4

5

6

16.

140 A.

14

95 mm.

150 mm.

18




17.

130 A.

3

62 - 100 mm.

150 mm.

4

5

6

8

18.

250-300 A.

2

56 - 90 mm.

150 mm.

3

4

5

19.

130 A.

3

60 - 135 mm.

180 mm.

4

5

6

8

20.

350 A.

2

62 - 105 mm.

180 mm.

3

4

5

21.

130 A.

3

60 - 150 mm.

200 mm.

4

5

6

8

2

22.

400 A.

2

58 - 100 mm.

200 mm.

3

4

5

6

4

23.

400 A.

4

150 - 220 mm.

320 mm.

5

24.

600 A.

3

300 - 330 mm.

420 mm.

4
Special Slip-Ring